E-Design | The Hannah's Home Work Space (not homework)
I've been working with Brian and Sadie for a couple of months now, although via my blog I don't have much to show for it. So, for those of you who only follow my creative adventures on my blog, and not on social media, then you probably had no idea. Actually, I haven't made a new blog post in over two months ago, so you probably thought that I  abandoned my blog, and decided to just sit around and do nothing and eat cookies all day. Not true. Plus, I know you didn't really think that, except the cookie part. Which oh my gosh, also not true, I forgot to share with the world that I'm in the early process of getting abs, so like yeah, two weeks ago I basically stopped eating cookies all day. Hope my abs get here soon.
Aright, back to Brian and Sadie. To sum it up: awesome married couple with two kids, and they just bought a home in Lafayette California, umm what else is there to know? They are great. So far, we've completed a living and dining room E-design, and a complete paint color consultation for their entire home.  This particular blog post isn't focusing on other aspects of their home, it's main focus is their new work room. But basically, you need to know that the color vibe is light, airy, rustic-modern, breathable (even with kids), and quality. You can see the color direction below:
When they moved to their new home, they planned on having a space designated to their work. But it's more complicated than just having an office to use a computer/storage space (as the average person needs when working from home).  Brian owns a muscle therapy company called "Muscle Activation of San Francisco". They have an office in San Francisco, but this new home office will be a second location. That's why this is more complicated, because clients will actually be seen here. How awesome is that, to be able to see clients in your own home? Totally awesome. It's different than "working from home" though, I mean yeah, your working from home, but you definitely can't be all up in your work space with your pajamas on.
The space will be divided into two parts. The office/reception area, and then the treatment room.
First I will show you the birds eye sketch of the space. Not floor plan, and not completed. Just room dimensions, so you can understand better.
I wish with E-design I could hire a photographer to go take photos of the actual finished space, well beyond the images I show, but it's just not a do-able thing right now. So for now, any time I post a blog post about an E-Design, chances are, there are no before and after typical makeover photos. Bummer. Some "Before" photos below, and big random green dots to help you see which wall is being shown.
Carpet will be placed in the office/reception area, while warm "teak" laminate flooring will be placed in the treatment room.
We wanted the space to have zen undertones, without being over-the-top ridiculously zen. No Buddha in the corner. No Yin Yang painted on the ceiling. No fake waterfall with a bird noise machine. Actually a waterfall might have been cool, but only kind of. The design direction was more of a calming centered feel (which makes perfect sense when your working with muscles, and muscle therapy). Relaxing colors, earthy choices, and bringing a breathable feeling to a small space. Below is the first mood board I created for Brian and Sadie, to give them insight into the design direction. All items you see in the mood board are purely inspirational, and not necessarily the items we actually went with. Except that skeleton (Brian got the skeleton for Christmas). The mood board doesn't consider cost, only design. Then it's my second job to create this same look, within their budget. Our goal was to keep the budget as low as possible, but then again, whose goal isn't? A few images down, you will see the final mood board with the items we actually purchased for the space.
I love the colors going on in this space. Very easy on the eyes, yet professional, and zen. All paint colors are Benjamin Moore #OhHereComesLaurenThePaintSnob
Paint Color A: "Sesame". An earthy green, a small touch of tan, and what I would consider to be a pale color compared to other greens out there. This color will be used in the Muscle Therapy Treatment Room.
Paint Color B: "Decorators White". A bright and over the top fabulous white. Modern, minimal, clean. Used for the crown molding. (which you can't see, because in the before photos there is no molding yet)
Paint Color C: "Swiss Coffee". A creamy off white, used for the ceiling. Most of the time ceilings are fine white, but not when your clients will be staring at the ceiling. It's not far from white, but enough of a contrast that will create visual interest.
Paint Color D: "Wales Gray". Leftover paint from other parts of their house. Kind of modern, clean feeling, light on the eyes, and totally of the earth as far as colors go.
Furniture/items needed for the Office/reception area:
1. A very shallow bookshelf to hide the "weird concrete areas"
2. A large area rug
3. two chairs for clients to wait if needed
4. A side table
5. Light fixture (we went with the same light fixture in both rooms to create unity)
6. A desk
Furniture/items needed for the treatment space:
1.A small writing desk for jotting down notes. Something simple. It needed to be white with modern lines to balance out the natural textures and colors used elsewhere in the space.
2.A massage table + stool
3.And a storage unit. Birch or natural color is ideal to balance the white desk, and to tie into the natural elements. The storage unit must be placed in front of the weird concrete area, so that it hides it. Open shelving is also needed, to give an airy, modern, and spacious feel. Which sounds weird, because why have open shelving when you need to hide concrete areas, but don't worry. The storage unit needed to have decorative elements, as well as obviously storage for files and business documents.
For the treatment room storage unit, Here is what we went with:
This storage unit is very close to a 5 x 5 foot square. Each compartment is almost 13×13 inches.
Accessories for that storage unit:
And the image below is how the items used in this shelving unit will be arranged. All the compartments with lines are representing files and other paper work. Paperwork still gotta be cute, ya know.  Atop the shelving unit are two Himalayan lamps. Oh whats a Himalayan lamp? They naturally purify the air, promote well being, and decrease allergens by ionizing air molecules. Also, they look cool, similar to some sort of earthy glowing rock I would find in the mountains, or something. The items I chose for them were about balance, and simplicity. Items were arranged in a very simple, uncluttered way. Rattan baskets at the bottom provide hidden storage AND hide the weird concrete thing on the wall behind it AND reference the rattan chairs we used in the office area.
Coolest part of the treatment room, might be a hand painted wall mural on one of the main walls. Brian knows a guy (actually Brian knows like a ton of guys who have been super helpful in creating this space on a budget), but anyway, this particular guy is going to paint birch trees for them. Birch trees are perfect here. Their shape is a bit modern on it's own, and their colors completely tie into the color scheme. Birch trees also reference nature, duh, but clients are going to feel very calm and relaxed when they get to have their muscle therapy in the woods. The image below, is just a reference of birch trees/inspiration.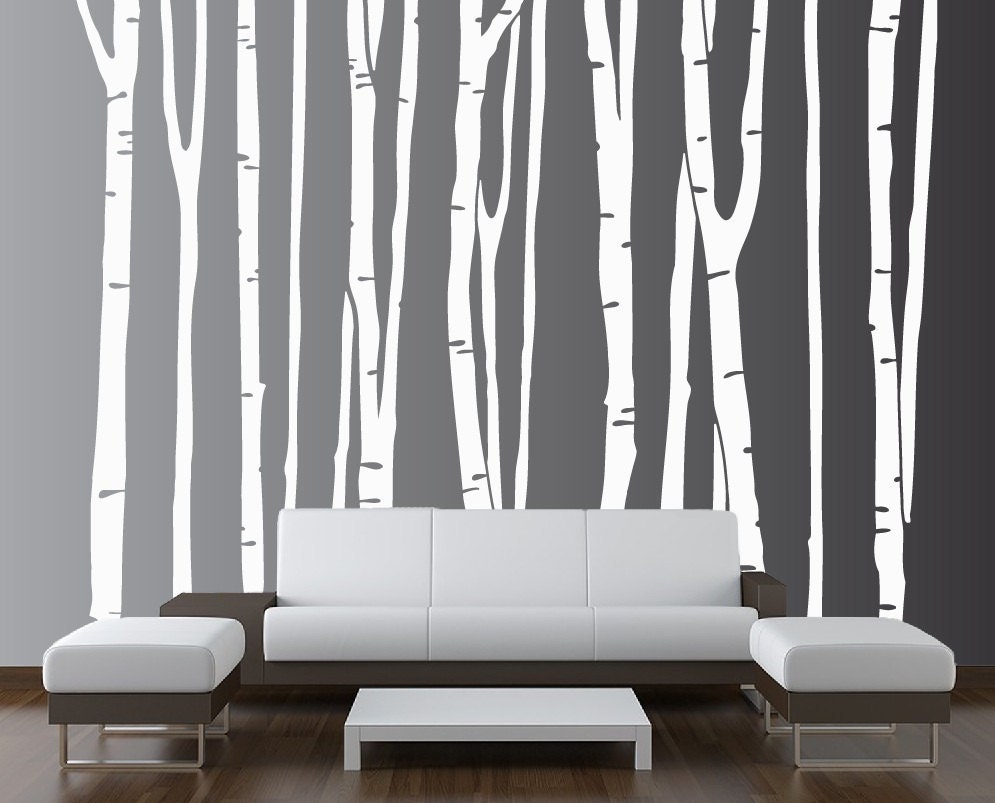 Within the coming weeks, The Hannah's will be finishing this home work space by having the birch tree artist come paint, installing all flooring, and installing all furniture and accessories. I am so excited for them, because their new house is slowly but surely becoming a home! For me, I have several projects lined up, which I am unbelievably thankful for.
__________________________________________________________
* An E-Design service provides the client with accessible design advice that sets the framework for a single room, for a set fee. All work is completed via telephone and email. All that is needed from the client is a completed design questionnaire, a budget, and images and dimensions of your room. Returned to the client will be a design concept, mood board (which is what you see above), a complete shopping guide which includes non-urgent and urgent items (usually sale items or items found on ebay/craigslist),and a detailed floorplan
Click here for design service inquiries. Or email me @ DahlHouseInteriors@gmail.com, Subject Line: Design Service Inquiry
To see more of Lauren's E-Designs, Click here Or here, for more portfolio images.